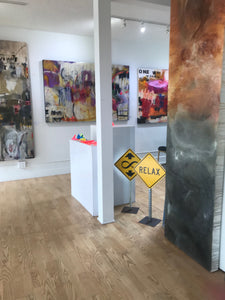 Group Exhibition $500 AM
Regular Price $500.00 Sale
30 Day Group Show
Congratulations, your work has been accepted by the director of LagunaART.com. I appreciate you taking the time to share your art with us.
1.It is agreeable that artists and LagunaART.com that all sales of the artists work are split 70/30 consignment.
2.Duration of Consignment: The Artist and the Gallery agree that the initial term of consignment for the Artworks is to be one month from the date delivered to the gallery, unless otherwise agreed to in writing.
3.Transportation Responsibilities. Arrangements for, packing and shipping charges, insurance costs, other handling expenses, and risk of loss or damage incurred in the delivery of Artworks from the Artist to the Gallery and in their return to the Artist shall be the responsibility of the Artist.
                                
Terms:
By accessing this web site, you are agreeing to be bound by these web site Terms and Conditions of Use, all applicable laws and regulations, and agree that you are responsible for compliance with any applicable local laws. If you do not agree with any of these terms, you are prohibited from using or accessing this site. The materials contained in this web site are protected by applicable copyright and trade mark laws.
Refunds:
It is the responsibility of the artist to ship the works in the appropriate amount of time to account for shipping for the exhibitions. If the artist pays for a space this space has been booked, marketed and promoted, if the art work is lost in transit LAG is not responsible for lost damaged or stolen works and is under no circumstances responsible for any refunds. If the artist is not happy with the timing of the show then the space and exhibitions will be pushed back to the following month or a month that works for the space and the artist.