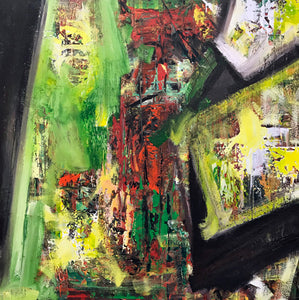 Minimalistic by Shant Beudjekian
Regular Price $1,500.00 Sale
Minimalistic by Shant Beudjekian
40" x 40"
Acrylic On Canvas
___________
My Art influences and inspirations to create visual works depend also on other Artists as Willem de Kooning, Chuck Close, Lucian Freud and Gerhardt Richter. I believe the creating of Art as a form of expression that involves the process of fulfilling and discovering a new vision to the rest of the world.
 
I have been painting for 22 years while receiving appreciative acceptances from curators and Gallery Directors from the East Coast. I have exhibited in several cities in the East Coast of United States, along with exhibitions in the Chelsea District of Manhattan New York.
Now living in the West Coast I have been notable for selling Art and exhibiting in numerous occasions at the San Diego Art Institute of the Living Artists, Del Mar Art Center, San Diego Hospice and Palliative Care, and Forest and Ocean Gallery in Laguna Beach. I also attained honorable mentions and awards from various juried competitions as Bonita Museum, North Park Art Festival and La Jolla Art Association.