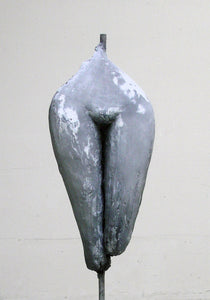 "Gray Matter II" by Helena Gullström, Sculpture
Regular Price $7,000.00 Sale
DETAILS:
15" x 33" x 11" (64" tall with stand)
Concrete, Mixed Media, and Metal Sculpture
ABOUT THE ARTIST:

Helena Gullström
Helena Gullström is a Swedish born artist that relocated to Los Angeles, CA when she was 20 years old. After having lived and worked as an artist in Los Angeles for 25 years, she just moved back to Sweden in the fall of 2020. She is best known for her abstract figurative paintings as well as sculptures, using materials including oil, acrylic, paper, concrete and Winterstone.
She has studied with well-known Los Angeles artist and revered art professor Franklyn Liegel at Otis College of Art and Design and he became a dear friend and guiding mentor.
She has exhibited in USA, Italy, India and Sweden and has collectors worldwide.
"I aim to instill a mood, a feeling into my art and hope for the viewer to connect to it on an emotional level. It's the best feeling in the world when it happens and you know that you share a special connection with that person."
-Helena Gullstrom
"Gullström pulls the alienated spectrum of human feelings from the world around her into sometimes almost genderless, fluid depictions of emotion masquerading as human form on a thematic canvas that one can only perceive as ones own unconscious psyche.
She seems to dip paintbrush and fingers into the very archetypal, unconscious energies and needs we allshare for organic wholeness."
-Lenora Willette Flores
"The generous physical layers of paint and combined materials in Helena Gullström's art creates a dreamlike imaginary world. The essence is both romantic and soulful. The work has the flavour of magic and miracles."
- Franklyn Liegel