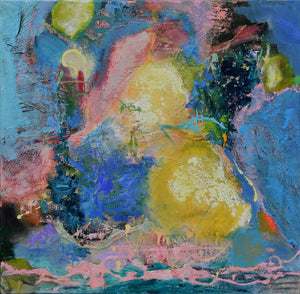 Rediscovered Memories by Linnea Leeming
Regular Price $1,800.00 Sale
Rediscovered Memories by Linnea Leeming
24" x 24" Acrylic On Canvas
_____________________________
We are very proud to have artist Linnea Leeming back working with us.  We have sold many of her painting throughout the years.  Linnea is a true professional and we love her creativity and vibrant color.  Welcome Back !
Linnea Toney Leeming's parents were both artists who provided their young child with vast resources of multi media materials, which shaped the foundation of her unlimited creativity. Her father built her first real studio while in her pre-teen years allowing her the freedom to express herself at an early age. Linnea's art has always been about her exploration of new experiences, the visual excitement of new areas, new colors, and new attitudes.
While in college she hitchhiked across the country and back with friends, and after receiving her BFA she made further travels to Europe studying art and architecture. "I use the abstractionist's process-driven approach to painting and the practice of listening to the unconscious. Large abstract paintings are conceived by making a series of considered decisions fueled by issues of color and space, where lines, patterns, and textures overlap and merge into unified compositions. Layering color, mediums and glazes, my compositions evolve of their own accord, acquiring their own presence and identity. I am relentless in using various media and experimentation to create the finished piece. I work intuitively and impulsively, always vibrant and energetic, creating paintings that burst with color; my mind and my hand work together to spark imagination." Linnea Toney Leeming's paintings can be seen in galleries and collections throughout the United States, as well as collections in Moscow, Shanghai and Madrid.