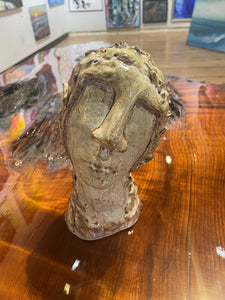 "Lady of Peace 2" by Souzan Zargari, Glazed Ceramic Sculpture
Regular Price $400.00 Sale
DETAILS:
13" X 7" X 5"
Glazed Ceramic Sculpture
Original Art Work
ABOUT THE ARTIST:
Souzan Zargari
Souzan Zargari is an Abstract Expressionist Painter & Sculptor. She is a Creator of her Paintings, Sculptures By her imaginations. Behind of All her art work there is A story to tell .Her Paintings & Sculptures Express her emotions.
She was Born in Iran & lived there until she moved to Los Angeles on 2005. After High school, she completed a two- years of Graphic Design & seven- year course of Painting & Sculpture in Private Art Institute With Well known Art Professors ( Ali Rezaei, Ali Faramarzi ) in Iran & Several Exhibitions in Tehran/Iran. Also Art exhibitions in Los Angeles, Orange county fine Art, Studio Gallery, Sand stone Gallery & Quorum gallery & Hugo rivera gallery & Lagunaart gallery …. Member of Laguna Beach Artist & Now Souzan Zargari Art Gallery in Laguna beach. She is an Artist (Painter, Sculptor) for more then 29 years.