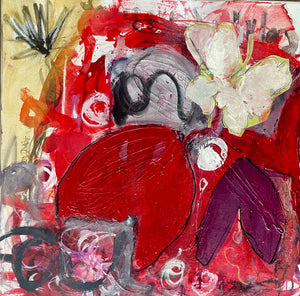 "Orange!" by Charlotte Forbes, Mixed Media on Canvas
Regular Price $850.00 Sale
DETAILS:

27.5" x 27.5"
Mixed Media on Canvas (with painted paper collage element)
Original Artwork
2022
ABOUT THE ARTIST:

Charlotte Forbes
After a 40-year career as an award-winning writer of fiction and non-fiction in New York, Charlotte Forbes currently spends most of her time in Mexico, painting and immersing herself in a vibrant, complex and often mystical culture. A self-taught artist, she has been in group shows in New York City, the America Midwest, and Mexico, and is in private collections throughout the Americas and Europe. 
For Forbes, painting is a welcome suspension of thought, desire, prescribed outcome and interaction of substrate and materials until an "in the zone period arrives in which color and form assume a life of their own and a sort of visual integrity ensues. The total exercise addresses the questions: who are "you"
.... today ....and what does consciousness want to express.