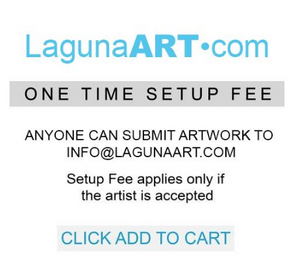 LagunaART.com Artist Representation
Regular Price $149.50 Sale
Congratulations, your work has been accepted by the art director of LagunaART.com. I appreciate you taking the time to share your art with us.
 The value of our site comes from the quality of our artist's. A one-time setup fee of $150.00 is due before the artist is uploaded online to LagunaART.com.
Below is our contract. Once you have submitted our upload fee we will send you a pdf to sign.
Consignment Agreement 50/50 
It is agreeable by ______________________________________________________ (the artist), and LagunaART.com that all sales of the artists work are split 50/50 consignment. The artist will hold the works in their possession until the artwork sells. It is asked by LagunaART.com that all artwork chosen for representation is shot professionally with a proper high res images of both the front and back of all art work for the website. Please only images of the art are required. LagunaART.com will place the artwork in living room settings. Payouts to the artist are paid on the 1st of every month.
Please include for each chosen image:  
Title:
Size: 
Medium:   
Date:    
Gallery Price:
Shipping:
It is agreed by both parties that the collector (client) will pay for shipping from the studio to the client's home. The Artist will first ship artwork then be reimbursed for shipping due to the fact that the artwork is stored in the artist's possession. Ask your dedicated sales consultant to help determine the details of these costs.
Physical Gallery representation:
The possibility of gallery representation has to do with how well the artwork is received on our website. If chosen for a solo or group show the artist will be responsible for shipping all artwork to and from the gallery in addition to any other costs such as framing, stretching, wires etc. All artwork will be shipped to Laguna Beach at: 305 North Coast Hwy, Laguna Beach, CA 92651. The same consignment agreement is used for the gallery show with a reception around the 1st of each month to be determined by the art director. Do not send any work to the gallery unless it has been approved and requested.  
Warm Regards,
Art Director
Thank you,
Signature________________________________________ Date ___________________